Who do you say I am?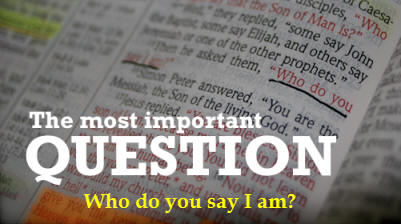 "Who do you say I am?" This was the question Jesus Christ asked 2000 years ago!
This question is as relevant today as it was then. To help you answer this question, consider the following:

Jesus Christ is the most important and influential person that has ever lived.
Today more people follow the teaching of Jesus than any other. To dismiss this man without examining the facts about Him is foolish in the extreme.
Jesus has had more influence over more people for more time than anyone else. Yet many people dismiss His teaching or his claims without having researched them fully and evaluating them carefully. And yet many others have a limited or partial knowledge of who Jesus is - or an incomplete or distorted views due to preconceptions, ignorance or error.
Consciously or unconsciously, there are many people who have rejected Jesus out of hand without bothering to examine His life and His teaching - just like those mentioned in Matthew 16:13-17.
Matthew 16:13-17
13 When Jesus came into the coasts of Caesarea Philippi, he asked his disciples, saying, Whom do men say that I the Son of man am?
14 And they said, Some [say that thou art] John the Baptist: some, Elias; and others, Jeremias, or one of the prophets.
15 He saith unto them, But whom say ye that I am?
16 And Simon Peter answered and said, Thou art the Christ, the Son of the living God.
17 And Jesus answered and said unto him, Blessed art thou, Simon Barjona: for flesh and blood hath not revealed [it] unto thee, but my Father which is in heaven.
Like those people in the crowd at Caesarea Philippi, many are content to accept the popular opinion - a good man, moral teacher, a prophet. Some even regard Jesus as a madman, a con-man... They are content to go along with what they hear and that is good enough for them. It's safe, it's comfortable, and above all it does not make any demands or require an uncomfortable change in lifestyle.

But that is not good enough for Him. When you talk about Jesus, you must decide who you say He is. For Jesus has said in:
John 14:6-7
6 Jesus saith unto him, I am the way, the truth, and the life: no man cometh unto the Father , but by me.
7 If ye had known me, ye should have known my Father also: and from henceforth ye know him, and have seen him.
Jesus also claimed to be none other than God in human flesh as in:
John 8:58
58 Jesus said unto them, Verily, verily, I say unto you, Before Abraham was, I am.
This astounding claim was supported by His matchless personal character, His fulfillment of predictive prophecy, His incalculable influence upon human history, His many miracles, and ultimately by His historically verifiable resurrection from the dead.
You therefore cannot merely talk about Jesus without having an opinion, without having made a decision about who he is. It is thus not possible to talk about Jesus in an impersonal or abstract way. One way or the other, you must make a personal response.
1. Was Jesus a madman?
Was Jesus mad, making crazy statements, claiming in his own deluded way to be God?
Shouldn't they shut him up for his own protection? No doubt that this is what we would do to him today. But many people who reject the idea that Jesus was God agree that his general teaching is entirely sane. His teaching about God, love, faith, forgiveness, good and evil is far ahead of anything else in the world's religious writings. What he has said rings true to our own experience.
2. Was Jesus a con-man?
Was Jesus an imposter who tried to manipulate people for his own gain and power?
His lifestyle didn't point to this. He lived as a peasant to the end. His possessions were minimal. He refused any political role. He called people to loving, giving and serving - and he lived that way himself. He knew the risks he was running, and he still did what he had to do. Humanly he had everything to lose and nothing to gain. And as for a character reference, even his enemies had to cook up charges to bring him down.
3. He was who he said he was.
If Jesus was neither a madman nor a con-man, then that leaves us with only one alternative. He was what he said he was - the Son of God - God with us for a brief time, sharing our limitations and woes, working for our healing and peace, and challenging us to live for God.
People during his time had to decide about him - and it's the same today. He was either who he said he was or we have to write him off as a deluded imposter, or a tragic martyr for a lost cause. We cannot remain neutral about Jesus Christ.
Who do you think Jesus is?

'I do not seek to understand so that I may believe; but I believe so that I may understand.
For I believe this also that "unless I believe, I shall not understand".'
Anselm's maxim

Click Why is the Bible Unique to find out startling and exclusive claims.
Click Bridge to Eternity for an animated portrayal of the saving grace of Jesus Christ.
Click The Way to Eternal Life when you are ready to invite Jesus to come into your life.