Luke 6:38 - give, and it shall be given unto you...




AGAPE RSS
AGAPE.com is visited:


times.
The Ninth Wonder of the World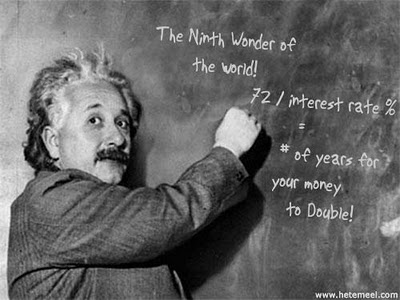 In this picture, Einstein outlined an important principle of interest rates. He explained the Rule of 72...
To find the number of periods required to double your money at a given rate, you just divide 72 by the interest rates.
For example, if you want to know how long it will take to double your money at ten percent, divide 72 by 10 and you get 7.2 periods.

The problem with compound growth is itís very slow at the beginning, so slow that it appears to be a waste of time.
In todayís "instant noodle" way of life, itís too easy to miss the woods for the trees.

As an illustration, if you start on day 1 with just one cent and doubled it each day, youíd have only $1.27 by the end of one week (i.e. 2 to the power of 7 minus 1).
By the end of the second week youíd have $163.83. By the end of the third week youíd have $20,971.51. But by the fourth week, you would have $2,684,354.55!

But if you procrastinate at the outset, and start on the 2nd day, one day late, you end up with only half that amount: $1,342,177.27.
So that one single day ends up costing you more than $1.3 million.
You see, itís the first day that we think we waste and so it appears we only lose one cent, because thatís all we have on the second day, but in reality itís the last day we lose to the tune of $1.3 million!

Now that you know this, the answer is not to cry today over all the wasted days of your past. You just need to seek out ways to harness the fantastic power of compound growth from today.
You donít need lots of money to begin with. You need a dream, the desire, the drive to succeed.

Come and talk to me if you are keen to find out more about Forex trading.

Some of my friends and associates asked if it is possible to profit from Forex without trading the market?
My quick answer is a definite YES.
A great way is to begin as an Fxprimus Affiliate and work diligently to build up a network of traders and affiliates.
Over a period of time, our network of traders/affiliates will grow exponentially from one to many.
While we are not able to double our traders/affiliates on a daily basis, our networks will definitely grow in accordance to the efforts we put into our ZERO COST online businesses.

I will leave it to your imagination the kind of RISK-FREE income that you can derive from an expanding networks of traders/affiliates that will continue to contribute say 10 cents or even $1 to $10s a trading day each into your Affiliate/IB account.

Find out more at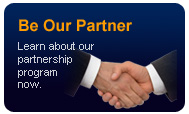 .
Please ensure that the Referral ID is 374 during your signup. Thank you.